15th Annual Palliative Care Conference: Healthcare Inequities at the End of Life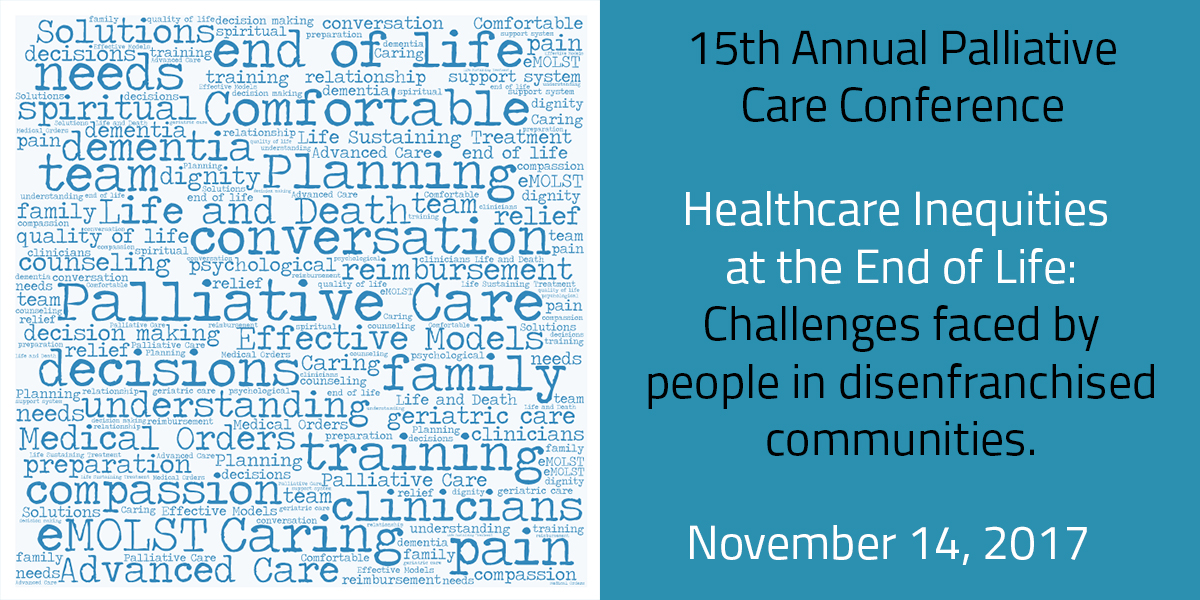 The New Jewish Home's 15th annual Palliative Care Conference: Healthcare Inequities at the End of Life will explore healthcare challenges faced by people who are often disenfranchised in our society as they approach the end of life.
The conference will enable healthcare providers to better understand challenges faced by veterans, people with dementia, African Americans, and the LGBTQ community.
Date: Tuesday, November 14th, 2017
Location: UJA- Federation of New York, 130 East 59th Street, New York, NY 10022
Time: 8:30 am – 3:30 pm
Breakfast and Lunch are provided.
For attendees, 5.0 Social Worker CEUs and 5.5. Administrator CEUs are available. When you register, please provide your Social or Administrator License number to facilitate issuing CEU forms.
Sponsored by the Joan Wachtler Research Endowment Fund and the Sally Froelich Palliative Care Endowment Fund.
SPEAKERS
Dr. Lyla Correoso
Division Vice President - Southeast Regional Medical Director
Kindred at Home
Dr. Alice Beal
Dr. Alice Beal, MD is a board certified internist and is affiliated with Veterans Affairs New York Harbor Healthcare System.
Dr. Aziz Ansari
Dr. Aziz Ansari is board certified in Hospice and Palliative Medicine and Hospital Medicine and is affiliated with Loyola University Medical Center.
Dr. Tia Powell
Dr. Powell is a bioethicist who specializes in public health disasters, bioethics consultation in the clinical setting and bioethics education.
Noelle Marie Javier, MD
Dr. Javier is an Assistant Professor of Medicine, Icahn School of Medicine at Mount Sinai Health System in New York City.